The Write Life: Scheduling a Creative Retreat
The idea of a solo writing retreat has always intrigued me. I excel at self-directed work, and I'm fairly productive while working independently, but stripping away all my distractions and responsibilities to focus on creativity felt indulgent. Or more specifically, like something other creatives were allowed to have, and I wasn't. (Spoilers: that is a lie, creatives are allowed time and space to create.) I also wasn't entirely convinced I wouldn't veg out a little too much away from the pressures of my daily life. Given no other responsibilities, would I really choose to buckle down and write?
The answer to that last question is unequivocally yes, but not without a little work.
The trick to making a solo writing retreat a success is absolutely in the preparation.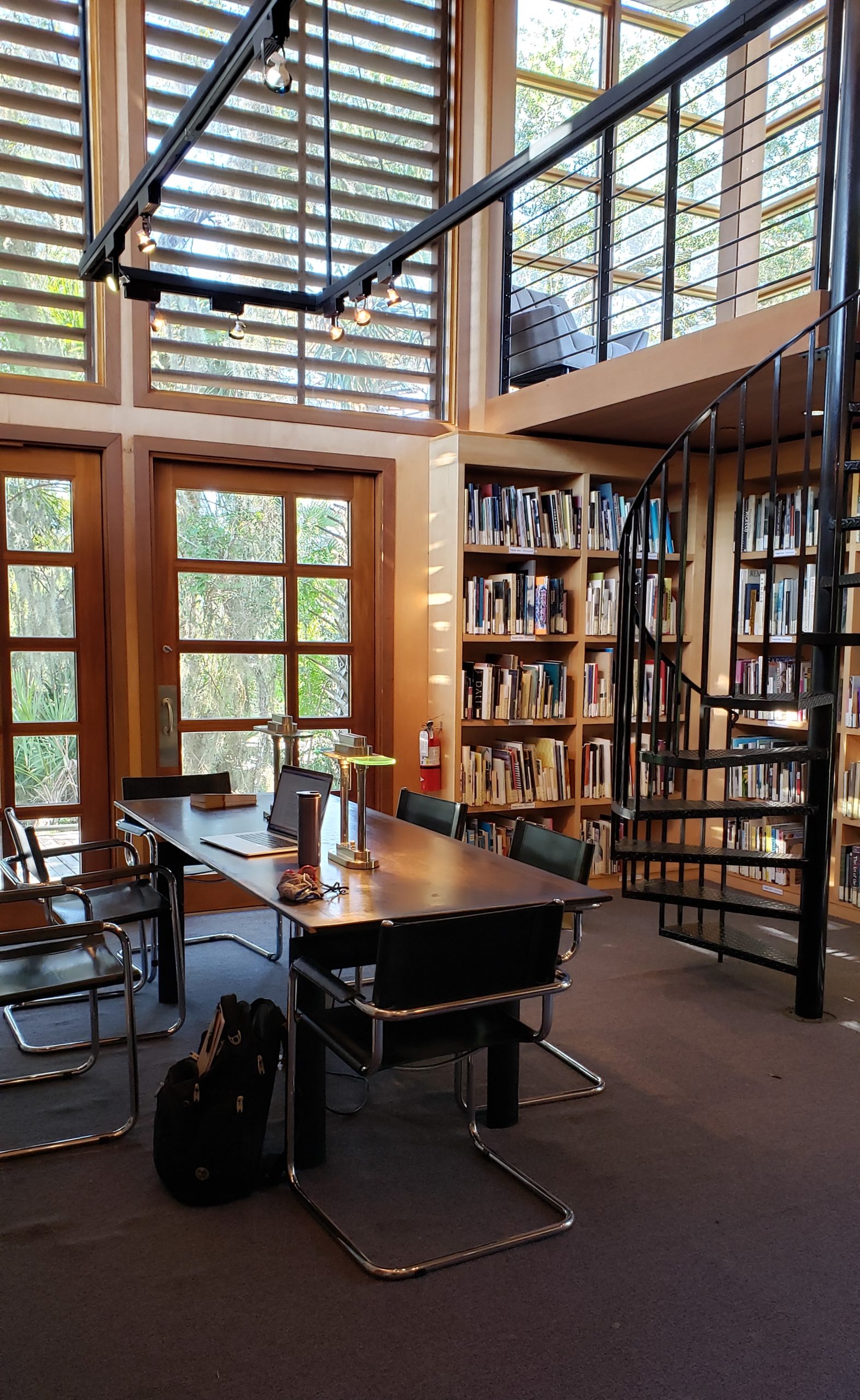 In early December, as part of UCF's MFA winter retreat, I headed to the Atlantic Center for the Arts. As I explained previously, the ACA is an artist retreat with creative studios for many different disciplines, including writing. While I was there, I had access to the Writing Studio and Library (pictured), as well as my private room and a cottage with a kitchen and dining area. It turned out that due to the retreat dates conflicting with school schedules, I was the only writer in residence the few days I was there (also pictured). Which worked out well for me! (I enjoy a dollop of solitude and writing in the quiet.)
Anything self-directed needs some, y'know, direction. So, to ensure my solo writing retreat was more than me sitting alone in a room with full autonomy and no one to blame if I didn't do anything, I made a list of the projects I needed to work on, the projects I wanted to work on, and the status on each project.
I narrowed my focus to three projects: one I needed to work on and that required some research, one that I wanted to work on and was at the planning stage, and another that I wanted to work on and was at the drafting stage. I quickly decided to spend most of my time on the project I needed to work on, but to warm-up or cool-down on the other projects.
Once I had my focus figured out, I made a schedule for each day to determine—realistically—how much time I would have to write. I included everything on my schedule from when I would eat and shower to when I would take a break to read or walk around the campus. Because while this was a writing retreat, it was also meant to give myself time to unwind and refuel, which meant ensuring I had time each day to eat decent meals, get to bed at a reasonable hour, and read a large chunk of a book.
Creating a schedule prevented me from wasting valuable retreat time figuring out when I needed to do something. I'd already made the plan, which meant all I had to do was look at my phone to figure out what to do next. And if a writing session was going great, it was easy for me to extend a half hour and adjust my schedule to accommodate inspiration and motivation. But I never had the stress of feeling like I was running out of time to do everything I wanted because I'd already accounted for my needs and my work time.
Writing sessions were similarly easy because I'd already planned what projects I would work on during each session. It turned out that I wound up mostly working on the needed project—because once I got started, my brain latched on to it and it was easy to work on—but during my morning and evening sessions, I had the option to check in with myself and see if I felt up to the more grueling task or if I wanted to relax with something easier.
Whether you're heading off for a writing retreat outside the home, or just planning a long weekend focused on your work, I highly recommend taking the time to prioritize and make a schedule beforehand to get the most of your specially focused creative time.
For full access to The Write Life, sign up on Patreon for $1 or more per month. You'll also receive a personalized thank you in a future edition of The Write Life.
http://www.allimartin.com/wp-content/uploads/2017/05/self-winding_framed-logo-300x138.jpg
0
0
Alli
http://www.allimartin.com/wp-content/uploads/2017/05/self-winding_framed-logo-300x138.jpg
Alli
2022-01-07 10:45:44
2022-01-03 10:49:46
The Write Life: Scheduling a Creative Retreat