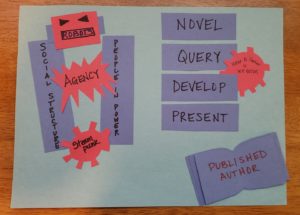 In mid-March my friend ran a mini-workshop on branding for myself and two other author friends. In addition to getting away for the weekend and spending entirely too much time browsing through the rooms and rooms of used books at Chamblin Bookmine, we discussed who we each are as authors, helped refine brand statements, and created vision boards to help guide our individual progress. (Spider-Man and Into the Spider-Verse sneaked into my vision board when I realized my cog looked more like a spider-logo—still on brand.)
Talking about who I am as a writer and trying to find a statement to encapsulate both writing about alternate history and writing about the future, as well as writing about robots and gender disparity and all the other bits and bobs of odd sci-fi that surfaces in my thoughts was a bit of a challenge. I had to strip down who I write about and focus on that more than on what I write. It was also a great experience to analyze why the things I write about are important to me. (I mean, I knew already, but being forced to articulate it in a non-glib way was a helpful step in taking myself seriously.)
Even though "branding" can be a scary business word that seems like you're selling yourself as a product, it's actually more about figuring out how to articulate what you do as an artist in a bite-sized way. That bite-size isn't just helpful for selling yourself or your art. It's also helpful for guiding your creativity and making choices about which opportunities to pursue and how to develop projects. It's a way to capture who you are as an artist at this point in your career, and I think that's the thing that I found the most helpful about the weekend.
In the end, I realized I write about various forms of agency. Whether that's women reclaiming agency in alternate history worlds or robots shucking their programming or proving they are more than their overlords believe them to be, my stories directly deal with characters reclaiming agency and learning to be more human than they ever believed. Since articulating that, it's been easier for me to write and to capture the story I'm trying to tell. If you're struggling with your fiction, I apparently recommend working on your brand!
For full access to The Write Life, sign up on Patreon for $1 or more per month. You'll also receive a personalized thank you in a future edition of The Write Life.
http://www.allimartin.com/wp-content/uploads/2017/05/self-winding_framed-logo-300x138.jpg
0
0
Alli
http://www.allimartin.com/wp-content/uploads/2017/05/self-winding_framed-logo-300x138.jpg
Alli
2019-04-09 10:45:11
2019-04-01 14:48:25
The Write Life: March 2019