Ever wonder what it takes to be an every day writer? It's this: planning, determination, and prioritizing writing.
My friends and I decided it was high time we visit the Magic Kingdom for an epic 12-hour theme park day. I write every day and while I want to prioritize having fun with my friends and enjoying the happiest place on Earth, I don't want to do that at the expense of my 1,200-day writing streak.
I came to Disney prepared to make sure I got my words in while having a rollicking good time. That meant: fully charging my battery, fully charging my back up battery, shifting an in-progress story to GoogleDocs and making it available offline, and brainstorming what happens in the scene I was planning to write.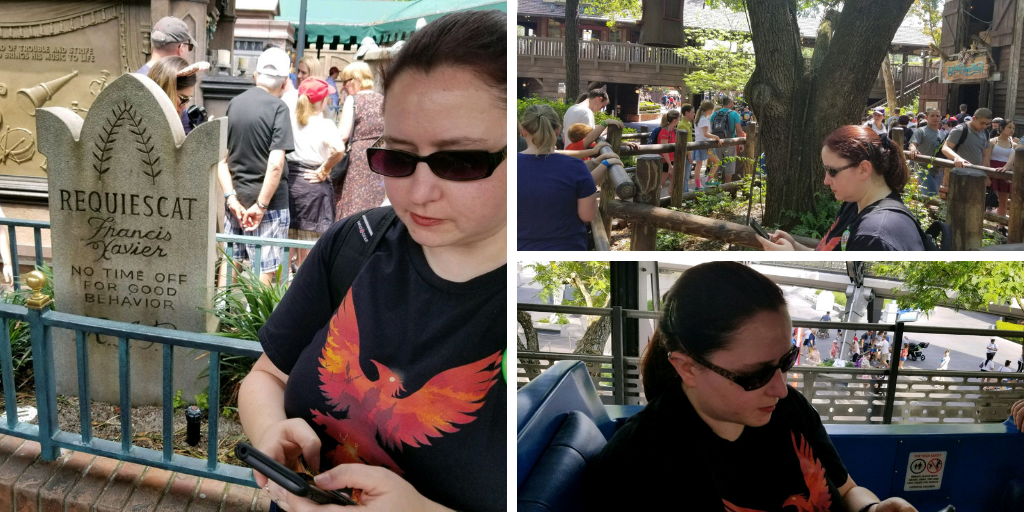 Finding the time to write while we were in the park was a balance between knowing we'd have long wait times for ride queues and not being rude to my friends. I waited until the conversation lulled, or when everyone else seemed equally distracted (or exhausted) before pulling out my phone to write. Because I had thought about the scene beforehand, it was easier to turn a handful of disjointed minutes into productive writing time. In the end I wrote 387 words while at Disney, which is not a staggering amount—I didn't even finish writing the scene—but my writing streak is in tact and I like some of the ideas that presented themselves in that land of distraction. (Also I will always think it's funny to write on theme park rides.)
Many thanks to Lara Eckener for being my in-line and on-ride photographer.
For full access to The Write Life, sign up on Patreon for $1 or more per month. You'll also receive a personalized thank you in a future edition of The Write Life.
http://www.allimartin.com/wp-content/uploads/2017/05/self-winding_framed-logo-300x138.jpg
0
0
Alli
http://www.allimartin.com/wp-content/uploads/2017/05/self-winding_framed-logo-300x138.jpg
Alli
2019-05-08 10:45:02
2019-07-03 19:12:27
The Write Life: April 2019