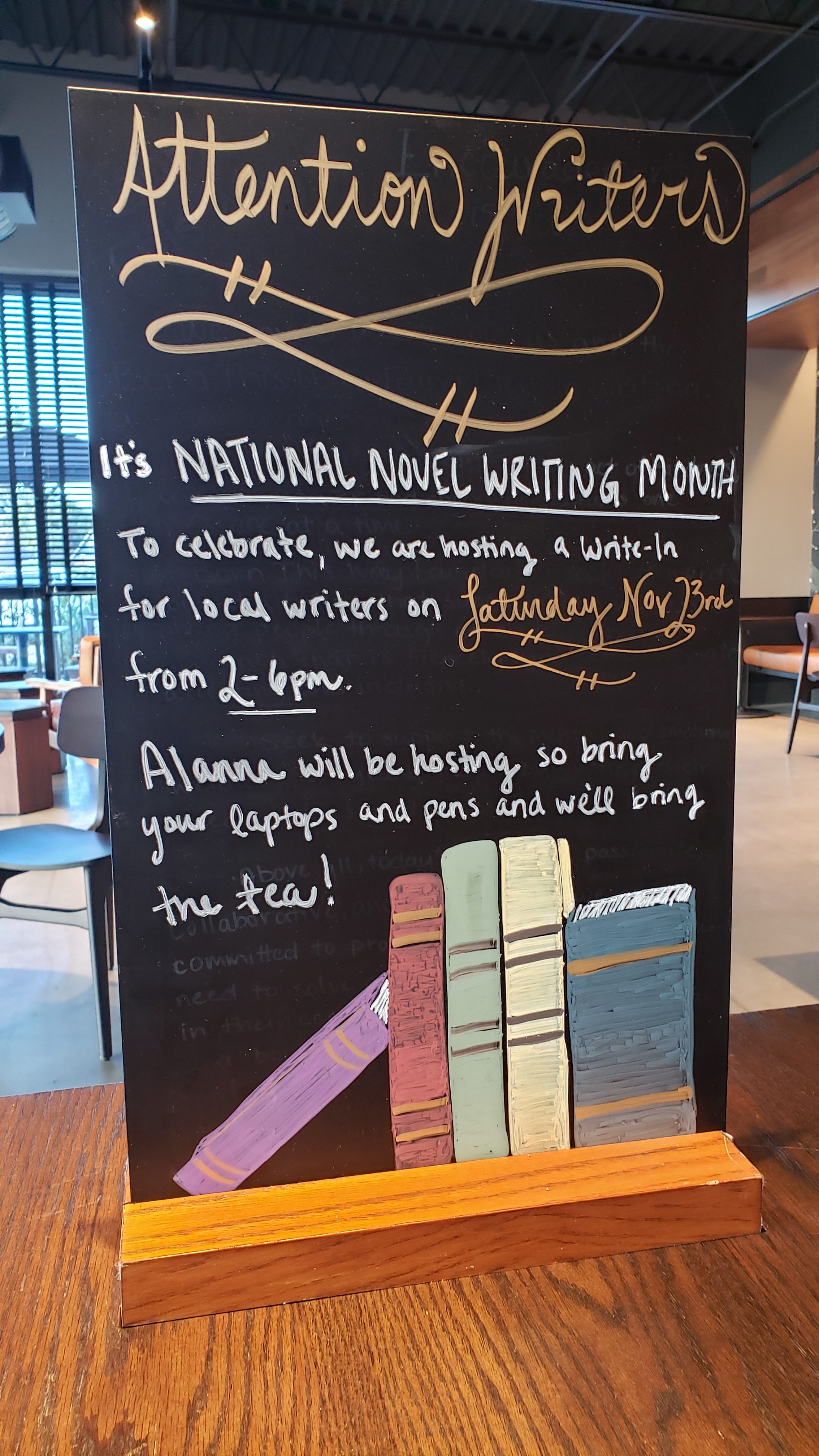 November means National Novel Writing Month. Instead of talking about word counts or impressive sprints and slogs to writing 50,000 words, I want to share a little about the various activities I participated in during the month because even though I was sick and homebound for a week, it was still a lot.
Weekly Write-Ins
My writing group once again opened its doors to welcome NaNOrlando writers to join us for our weekly write-in. The Central Florida Inklings is currently at capacity, but we figure for one month out of the year we can uncomfortably cram a few extra laptops at a table or spread out to fully take over our usual Starbucks. Every year a few extra writers join us, and we love having them for the month—it's good to meet new people.
Hogsmeade Write-In
Early in the month, I lead a write-in at one of my favorite places to write: the Wizarding World of Harry Potter. Five other writers joined me behind The Three Broomsticks to write some truly magical words and reap some butterbeer-flavored rewards. It was a completely gorgeous (and mercifully cooler) day in which we each wrote about 2,000 words. One family incredulously asked us, "You pay to come into the parks to stare at your computers?" Sometimes the benefits of an annual pass (or Universal employment) are difficult to explain to others.
Write Around Disney World
Right in the center of the month was the pièce de résistance concerning the NaNOrlando events. On November 16, I and the other Orlando region MLs lead 40+ writers around Disney property on boats, buses, and monorails to resort lobbies and cafeterias to write as many words as we could on this traveling write-in. 
This event is my favorite every year because it's so unusual, so fun, and so big.
Descending on and taking over the lobbies at the Polynesian and Grand Floridian makes me happy. I love threading between tourists and seeing so many writers on their laptops, focus firmly attached to their novels. It's also a great opportunity to say hello to writers I only hang out with once a year and also to meet new friendly faces. This year we even had someone come down from Atlanta just for the event!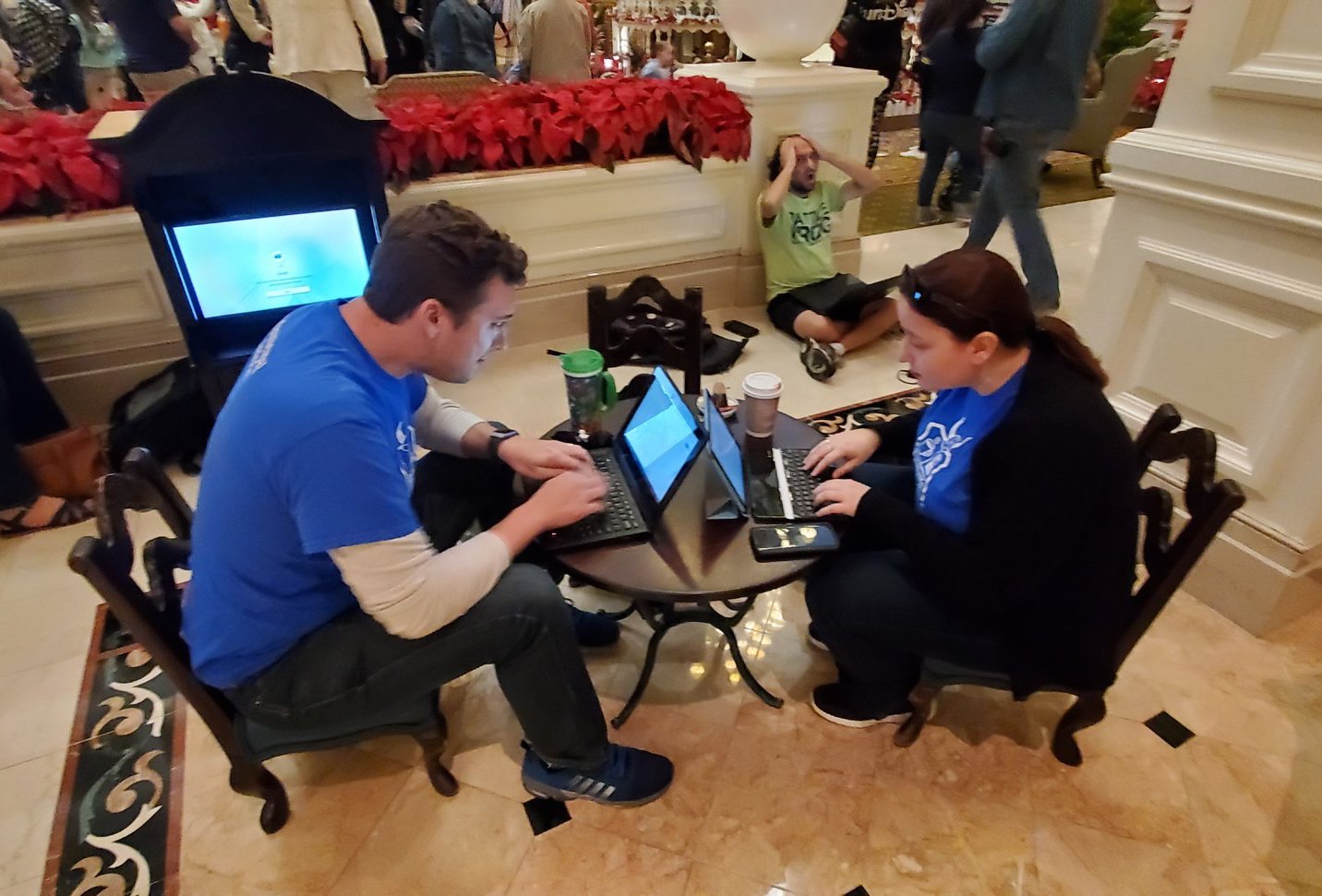 Brad Shreffler and I have been working together to build the NaNOrlando region for the last four years, and while Write Around Disney World is a tradition on its own, Brad and I have another tradition that we partook in this year: our annual picture writing at the kids table. When NaNoWriMo tells you that you can write anywhere, they mean it.
Even though I was sick for a week, out of town for a few days, and had relatives visiting, I still managed to get to ten write-ins. Which is more than I would have thought given that crammed schedule. But my commitment to attending write-ins during November is a testament to how much I believe writing with people increases my productivity and fulfills an important need in my writing life. Writing is all too often a solitary endeavor, and I believe it's important to connect to a community and remember that through all the private, quiet struggles I might be having with my word count, revisions, or confidence, I'm not alone.
For full access to The Write Life, sign up on Patreon for $1 or more per month. You'll also receive a personalized thank you in a future edition of The Write Life.
http://www.allimartin.com/wp-content/uploads/2017/05/self-winding_framed-logo-300x138.jpg
0
0
Alli
http://www.allimartin.com/wp-content/uploads/2017/05/self-winding_framed-logo-300x138.jpg
Alli
2019-12-10 10:45:29
2019-12-07 12:20:30
The Write Life: November 2019