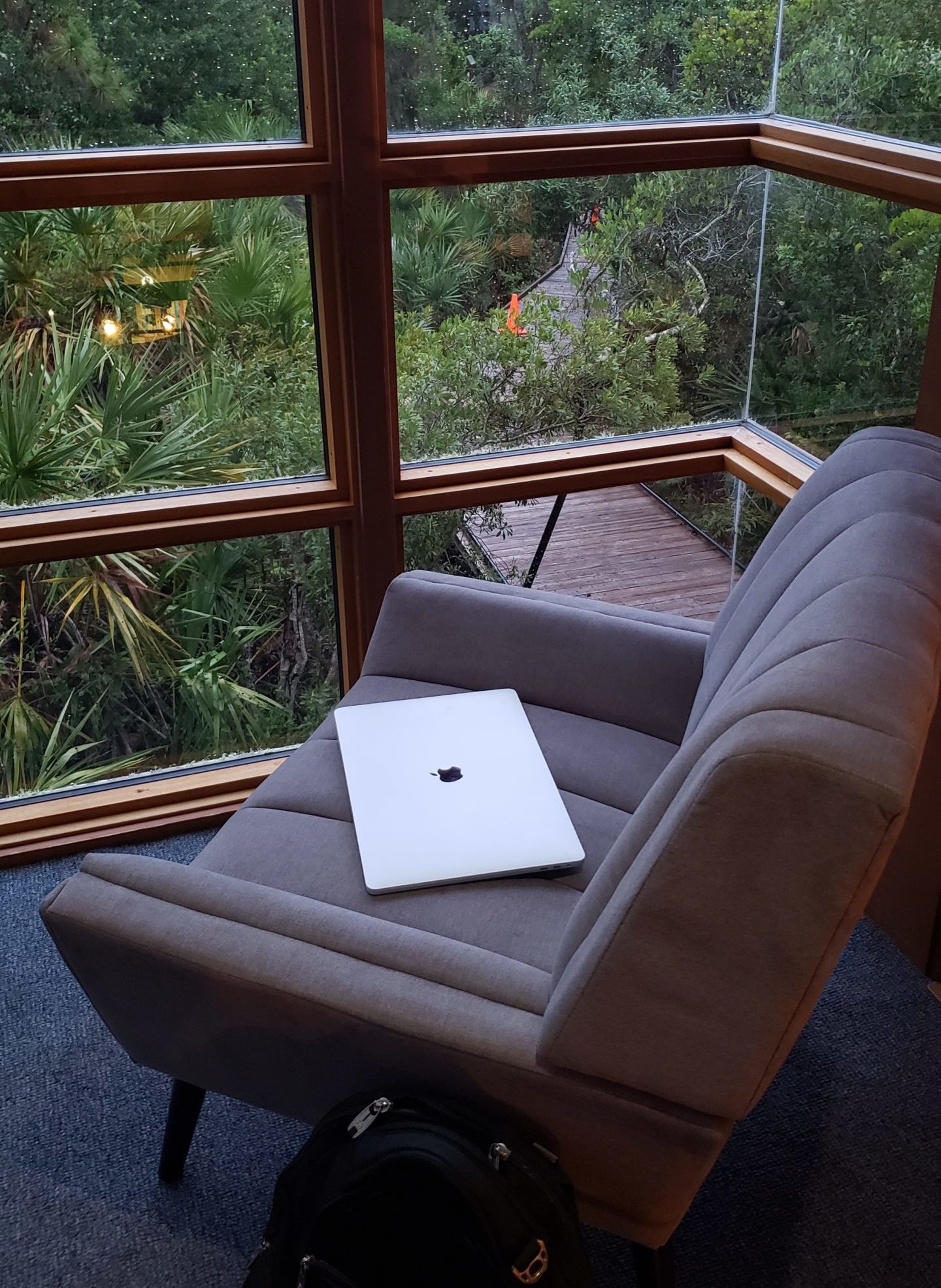 During May when I was busily seizing opportunities, I decided it was finally time to take advantage of my alumni status and join the UCF MFA writers at the annual writing retreat at the Atlantic Center for the Arts.
I had been to the ACA previously for another event, so I was already familiar with the facility, the general layout, and how the local Florida wildlife wraps each studio, building, and walking path. I knew the ACA was the sort of place I would enjoy visiting for an extended period and that it had the sort of things I find valuable and necessary for my creativity: seats and desks, quiet and solitude, sunlight.
Also, wi-fi, if I'm being entirely honest.
The UCF MFA's retreat is entirely self-driven, so after I confirmed I could bring my writing partner, we packed up for the weekend with a plan to work on our latest brainchild.
We split our time between our room and two of the communal spaces we were given access to, the writing studio and the library. Both facilities have a long table that seats 6–10 people and a lofted reading nook with some additional seating. The writing studio has desks along the wall as well as a printer and mini kitchen so you can easily store some snacks and drinks and hang out for a long while. Every space has enormous windows letting in beautiful Florida sunshine and displaying all the wonderful greenery that surrounds and winds through the grounds. You like palm trees and lizards? There are so many. (Also a tortoise, who I found lurking by the stairs that clearly lead to an adventure… and also spiders, which is why I didn't descend any further.)
Sunday afternoon, the sky turned stormy, and clouds obscured the sunlight, creating a murky half-light that is my preferred lighting for creation. Florida rains tend to hang around and drip for hours, so we were able to wait out the rainiest bit and get back to our room and umbrellas without getting too damp along the way.
All in all, we made great progress organizing, planning, and filling out some of the backend content of our new project, and I can't wait to share it with everyone. I want to wait until we're a little deeper into production to announce it, but assuming things stay on track, I'll be launching something exciting in the Fall. Many thanks to the UCF MFA writers retreat and the Atlantic Center for the Arts for giving us the time and space to work on our project without distractions.
(I mean, there were distractions, but those distractions were entirely on us and our need to walk through the woods and tell ghost stories about sharks. Because that is the scariest place to tell stories about sharks. You never know where that shark could be.)
For full access to The Write Life, sign up on Patreon for $1 or more per month. You'll also receive a personalized thank you in a future edition of The Write Life.
http://www.allimartin.com/wp-content/uploads/2017/05/self-winding_framed-logo-300x138.jpg
0
0
Alli
http://www.allimartin.com/wp-content/uploads/2017/05/self-winding_framed-logo-300x138.jpg
Alli
2021-07-08 10:45:03
2021-06-28 20:09:45
The Write Life: Writing Retreat